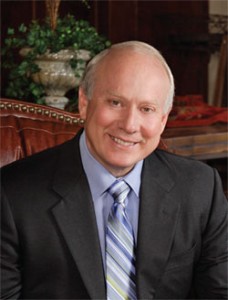 He watched his father work hard and play fair, yet barely make the ends meet financially.
He saw the odds were stacked in favor of the wealthy, that the average working-class citizen would always be in bondage to the system. So he decided to find a way to beat the game. And he did.
Here are the facts.
Education
Bachelor of Science, Business Administration, Brigham Young University

Employment
Current: Chief Executive Officer, Melaleuca, Inc.
Past: Regional Vice President, ADP; Vice President, Cox Communications

Awards & Honors
Current: Board of Directors, United States Chamber of Commerce
2013: Bonneville County Heritage Association Preservation Award
2011: Idaho Hometown Hero Medal Hometown Hero
2009: American Solutions Entrepreneur of the Year
2009: Idaho Republican Party, Most Valuable Person
2008: Boy Scouts of America, Silver Beaver Award
2007: Inducted by the Idaho Hall of Fame
2001: Entrepreneur of the Year Hall of Fame
1998: Idaho Business Leader of the Year
For more information, see the Frank VanderSloot Info web site. Read the Frank VanderSloot profile.